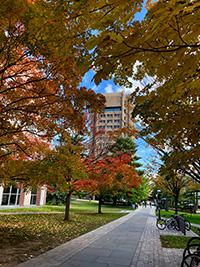 PACM's Statement on Diversity
The Princeton University Program in Applied and Computational Mathematics' position is that the best environment for research, teaching, and service is an open and welcoming one, for all students, faculty, and staff.
PACM strives to be a place where every member is respected, valued and supported, and is given the opportunity to flourish unobstructed in pursuit of excellence. PACM is committed to maintaining an environment where well-being and safety are essential components, where individuals work and study free from all types of discrimination, harassment or intimidation.
Discrimination based on either age, culture, ethnicity, gender identity and expression, nationality, religious belief, sexual orientation, or socioeconomic status runs counter to PACM's values and to its mission to provide an interdisciplinary home for people who share a passion for mathematics and its applications.
PACM's commitment to diversity echoes that of the University as a whole. The University has launched a number of initiatives aimed at enhancing its diversity and campus climate. Many of these resources can be found in greater detail at the links below:
Fine Hall - Climate and Inclusion
Many Voices, One Future – overview of the University's commitment and programs working toward diversity and inclusion.
Recruitment and Outreach – overview of where the diversity and inclusion team will be recruiting throughout the year.
Student Resources – information on the available resources for current students and find a complete listing of seminars, symposia and other events that explore topics relevant to academic success, work/life balance, families at Princeton, professional development, and more. 
Sexual Misconduct and Title IX – overview of the University's comprehensive program designed to protect members of the University community from discrimination on the basis of sex or gender, which includes sexual misconduct such as sexual harassment and sexual assault, stalking, and intimate partner violence.
Rules, Rights, and Responsibilities - a concise reference and guide for all members of the Princeton University community. Included here are brief statements of University policies most likely to be applicable to and of interest to all University constituencies.
Office of Diversity & Inclusion Campus Life - The Office of Diversity and Inclusion-Campus Life (ODI) is committed to supporting and challenging all undergraduate and graduate students by facilitating co-curricular experiences and learning about identity, inclusion, equity, and social justice education.
Inclusive Princeton - At Princeton, we are, "In the Nation's Service and the Service of Humanity". When we speak of humanity, we mean "all members of the human community" as described by Princeton alumna and Supreme Court Justice Sonya Sotomayor at Alumni Day in 2014. Diversity, equity, and inclusion are central to who we are and how we impact society. We seek individuals who bring curiosity and a diversity of viewpoints and cultures, and who can share their exceptional ability and promise with those they serve. No matter where you reside within the University, we encourage you to bring your whole self to Princeton, which enables Princeton to achieve its mission and reach its true potential.
EVENTS AND WORKSHOPS
Horizons Lectures: this series discuss issues of diversity and inclusion in STEM fields; provides career advice to graduate students and junior faculty; and promotes the work of mathematicians from underrepresented groups. Please check the schedule of the events below. 
Inclusive Academy: The annual Inclusive Academy (IA) Symposium is an in-person diversity conference hosted by Princeton University and focused on supporting graduate students and post-doctoral scholars from underrepresented backgrounds, on an array of topics related to success in the academy and on the job market. The symposium is focused on bringing graduate students and post-doctoral scholars from underrepresented backgrounds together while also providing a platform to discuss critical topics for thriving and success through a holistic and intersectional lens. Please check the schedule of the fast and current events below. 
Let someone know
Should you experience or witness identity-based bias, discrimination or harassment, we encourage you to let someone know:
If the University resources listed above fail to address your PACM-specific concerns, please reach out to our Program Director, Prof. Peter Constantin at const@math.princeton.edu to set up a meeting.